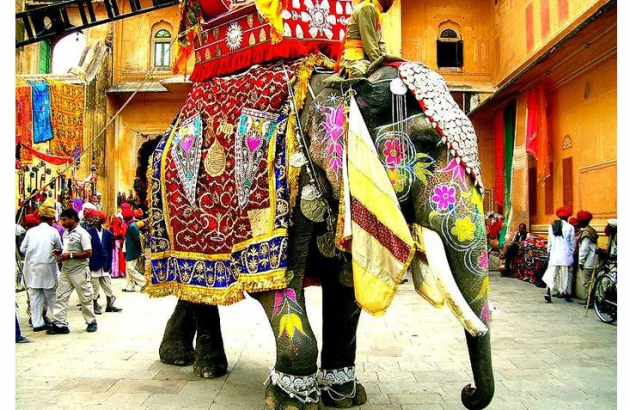 One of the things influencing the format and venue chosen for a corporate event, is the concept of the celebration. It can be anything: from world tour to a dynamic quest based on a popular computer game. What matters most is the general attitude of the company and maximum satisfaction of every single guest present at the event. This is the main goal pursued by SpecProject!
Let us compare opposed concepts and see what a New year staff party can be.
Bollywood-style New Year
Bollywod-style New Year party takes guests to a special world embodying fame and success, beautiful life, dancing, bright colors! Cold December weekdays instantly melt in the warm atmosphere and lush scenery ... Vivid special effects and charismatic actors raise the mood of anyone who has received an invitation to Bollywood. Guests of the event literally play roles in Indian cinema! The concept reflects in quizzes and competitions, jingles in Indian jewelery on the dance floor, shines in red bindi and dissipate in spicy flavors... Immersed in the atmosphere and drunk on the experience and less the drinks, guests can find something for their liking: take part in a mehendi class, enjoy mint citrus hookah or hear predictions for the next year from a mysterious Indian astrologer!
Why not Halloween?
There are as many opinions as there are people! And there are as many ideas as there are corporate parties! There are those who make more daring choices when organizing magic and fabulous New Year celebrations! For example, Vampire Ball or Monsters Ball parties grow more and more popular ... Well, and why not? You have an idea - we have the tools to implement it! Just imagine you are a guest of the evil and insanely beautiful Maleficent... Around you - themed decorations, dark colors, black accents and gloom... You will definitely have things to remember: fortune-telling with tarot cards, search for a stolen amulet, meeting with zombies and ritual dances... Adrenaline, fun, thirst for victory and discovery ... And is it not what New Year's celebrations should be like?
Related